Each of my Button Bracelet Designs uses a new military button. Some designs have hand beaded embellishment; while other designs have a button mounted to a beaded bracelet band. This portfolio of bracelet designs showcases my most popular button bracelet designs.  To view more bracelet designs and color options at Joy Harmon Designs Facebook Military Bracelets Album. Custom designs, colors, and sizes are welcome.
More tax, shipping, and ordering information at bottom page. Ring band is adjustable in size.
WOVEN BRACELETS: $50 – single button
 Multiple Buttons – $50 plus $5 per additional button.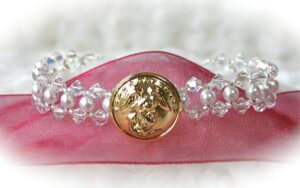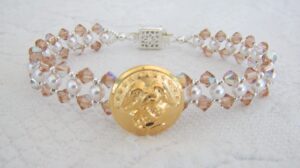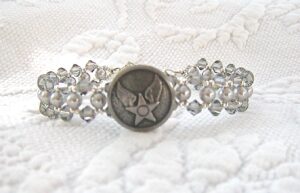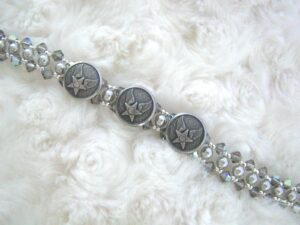 CROCHET BRACELETS: $80 – single button
This design is made using your choice of beads and colors with or without a button. The wire holding the beads is either Fine Silver ( slower to tarnish than sterling) or Gold Filled (gold's version of sterling silver). The clasp is either Sterling Silver or Gold Filled.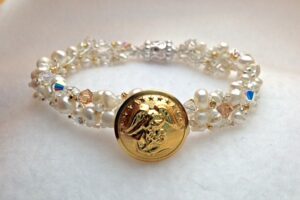 PEARL STRAND BRACELETS: $30 – single button
$7 per additional button
Swarovski Pearl beads strung with a center mounted Button Charm (small uniform button). Adjustable Closure ideal for gift giving.
Swarovski Pearl Beads come in many different colors. White and Gold shown below.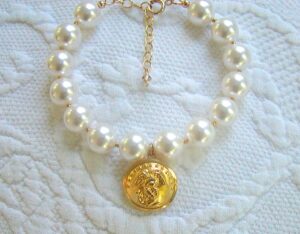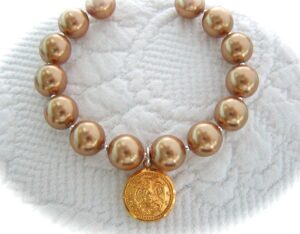 DOUBLE PEARL STRANDED BRACELETS:
$60 – Large button, 2 Strands Swarovski Pearl Beads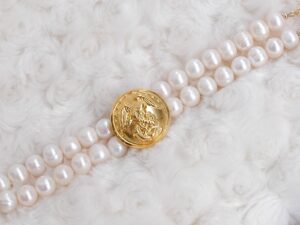 $90 – Large Button embellished with Crystals, 2 Strands Swarovski Pearl Beads
ORDERING: For a larger variety of design pictures visit Joy Harmon Designs' Facebook Military Bracelets Album.  To order or make inquiries email Joy at joy@joyharmondesigns.com.   If you want a specific designs seen on this page it will be helpful when emailing to give the name of the design found above the picture(s) with the price.
TAX & SHIPPING: Price does not include Sales & Use Tax or Shipping charge. My standard shipping charge starts at $5 (increased if weight from multiple items deems necessary. Shipping is through USPS First Class with Tracking unless otherwise requested by customer.
I will not deface or change the color of the uniform button. All US services have gold colored uniform buttons except the US Air Force which has pewter colored buttons. The USMC also has a large and small, black button in addition to their gold button. For more design pictures visit Joy Harmon Designs' Facebook Military Bracelets Album.
If a customer wishes for me to use one of their service member's buttons please make that request when inquiring or ordering.