Welcome to Joy Harmon Designs.  This site serves as a sampling portfolio of my most popular Military Uniform Button Jewelry designs, Custom Organizational designs, and Holiday Ornaments. For a more exhaustive portfolio please visit my Joy Harmon Designs' Facebook Page to follow my current and past Military Uniform Button designs, ornaments, custom vintage jewelry re-designs, and more.  Peruse more than 20 Photo Albums on my Joy Harmon Designs FB page for different color and design options. Custom orders are always welcome.
ORDERING & ENGAGEMENT:  Pricing, custom design inquiries, or Orders can be made through a message on my business Facebook Page or by emailing me at joy@joyharmondesigns.com.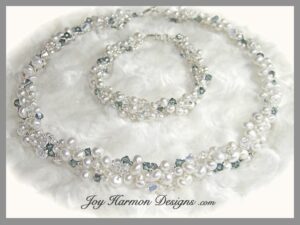 INQUIRIES: Please contact Joy at joy@joyharmondesigns.com.
TUTORIALS: For downloadable Ornament and Beaded Jewelry Tutorial purchases please visit my Joy Harmon Designs Etsy Store.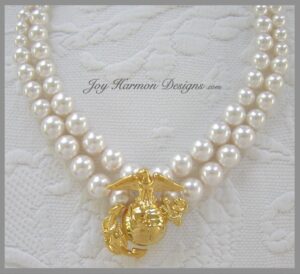 ABOUT the ARTIST: I have enjoyed many roles in my life, but my most fulfilling are being the wife of a God-sent man and United States Marine (now retired), mother, and most recently a grandmother.  I have always enjoyed created things as an artful eye, designing, and building with my hands is in my genes.  After several years of teaching and writing tutorials for beading techniques I developed a line of Military Button Jewelry as a way for military family members and friends to show their support for our voluntary Armed Forces. This line has opened doors into other uniformed communities such as Firefighters, Law Enforcement, and Foreign Military.  Although I have a standard Button Line, Custom Orders are encouraged. Many of my most popular standard pieces were inspired by a customer request. I have experienced how personal showing one's love and support can be, and I strive to design each handmade piece of jewelry with that personal connection in mind. Each Joy Harmon Designs piece is handmade by me, Joy.